Hi! How do you have fun this summer? When you are having very sunny days, you will be much more cheerful by listening to James Brown's music that you can't leave out when talking about groove!!  
From the James Brown's live show recording "Live at the Apollo, Vol. II", "Sweet Soul Music" is the best groove for sunny summer days. This song is originally released by Arthur Conley which you can listen to his version on YouTube. The original version is of course one of the best soul music, but James Brown's band in this album performs it with much more funk grooves.
(0:00-) 
The song joyfully begins with horns. 2/4 is inserted just before the verse, maybe because the lyric "Do you like good music" doesn't fit into 4/4. The drum fill in the 2/4 is very good. Just one single strike of a snare drum! Don't be unnecessarily fancy, and give over space to the vocal. I often play one-shot fill like that because I love this kind of simplicity.
(1:48-)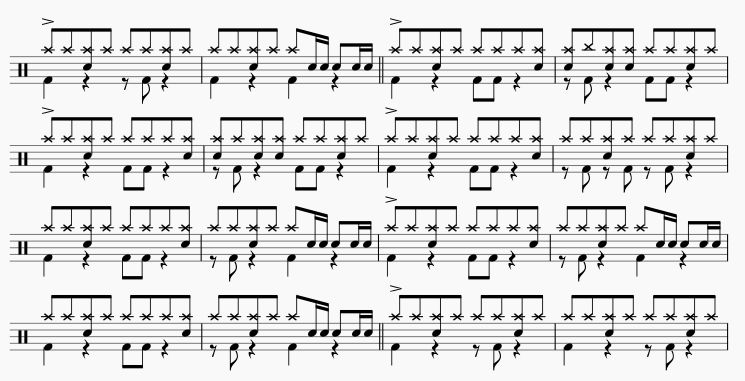 Next, a dialogue among vocal, drums, and percussion from the 3rd bar of the above transcription. When the vocal goes randomly like "gotta gotta feelin'", the snare back beat changes its position accordingly. The slip beat, which is familiar in JB's music, unfolds in the groove. The "RATTLE RATTLE" snare taps are light and crispy. You can probably see that the Bongo really supports this gotta gotta feelin' groove. If you listen carefully, the faint Bongo notes contribute a lot to this 16th rapid groove instead of snare drum's ghost notes. That is a secret ingredient. 
James Brown has a lot to listen to. All musicians must listen to especially this live show version "Live at the Apollo, Volume II". Along with its music structure, ensemble and technique, it is indeed telling you what entertainment is. If you listen to the next song of the introduction "Think", you will regret not being able to participate in this show and your own destiny that you could not live in this good old times.